Annual Mobile Shootout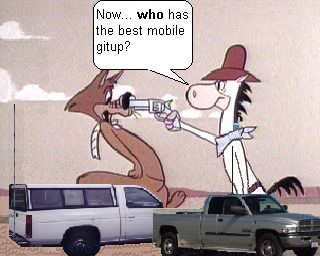 Mobiles—this one's for you! For those new to the idea, every year at our Eyeball gatherings, we hold an event called the "Mobile Shootout." The purpose is to give all entrants an idea as to the effectiveness of their own mobile installations. Having an effective mobile setup takes more than just slapping an antenna on your bumper and connecting it to a radio. So who are the big guns on our nets? Better still who is the "Top Gun?" We all have our opinions, but the Shootout will actually measure each mobile's signal strength, and when the smoke clears there will be only one wearing the "Top Gun" hat. Will it be you? See RESULTS of past Shootouts below.
Who has the most powerful signal down range is controlled by a number of things that go to make up the total "Mobile System." The "Mobile System" includes the antenna itself, the vehicle it's mounted on, the mounting location on the vehicle, the quality of grounding, etc. The Mobile Shootout provides a measurement of ALL these factors combined in the form of a signal strength measured down range.
Each mobile operator will drive his/her vehicle to a designated test range where, after the operator is satisfied that the antenna is properly tuned, officials will attach a calibrated wattmeter to assure all contestants use the same power level. At the receive site, located up to several wavelengths away, as space allows, each mobile's signal strength will be recorded. When all participants' signals have been measured, the results will be calculated, with the winners announced and prizes given out at our annual awards presentation ceremony.
Remember, unless special categories are announced, the Mobile Shootout is for street-legal mobile setups, so the highest point of the antenna must be no higher above ground than what is legally allowed on public roads and highways—no more than 13.5 feet high at the highest point and no more than 8 feet wide, including any capacity hat. If you can build a roadworthy, 8-foot diameter capacity hat, you can enter it. Besides we'd all like to see that one. We will measure! The antenna system as a whole must be roadworthy. You must be able to drive in and out of the contest area with the antenna installed and must also be able to operate at highway speeds.
All objections and concerns any contestant may have must be verbalized during the Shootout and disputes will be settled by a majority decision of the people at the Shootout site with Shootout Master acting as the moderator. Objections and concerns voiced after the fact will NOT be considered. The purpose of the Mobile Shootout is to gain insight into what it takes to improve our mobile signals, and to have fun.
Our thanks and gratitude to Tom Bates, AA1NZ, Shootout Master Extraordinaire. Tom is the creator of this event that so many have enjoyed, and he was the driving force behind it for Eyeballs 2002 - 2009. Lon Martin, K0WJ took over as Shootout Master for Eyeballs 2010 - 2015. Our Shootout Masters for Eyeball 2016 were Bill Dobson, N3WD, and Marty Blaise, AG5T. Shootout Master for Eyeball 2017 will be Roger Callewaert, W9ROG. The frequency for Shootout 2017 will be the 40m SSB frequency of 7.2675 MHz +/- QRM and the power level will be 20 or 30 watts as determined by the Range Master on the day (Saturday) of the Shootout. The 2017 Shoo tout area will accommodate ANY size vehicle.
At Eyeballs 2011 thru 2015, Lon Martin, K0WJ, conducted Mobile Antenna Clinics aimed at helping members improve the efficiency of their mobile antenna installations. His presentation is available in both PDF and PowerPoint formats. For those wanting full-page slides, look at Mobile Installation Clinic Slides (PDF file, size 4.9MB). This same material is available with half-page slides plus added notes at Mobile Installation Clinic Notes (PDF File, size 2.5MB), or as a PowerPoint Presentation (slides only) at Mobile Clinic (PPT File, size 118MB).
Potential Shootout entrants may also wish to look over the Mobile Operators' website. Alan Applegate, K0BG, is renowned for his insight and knowledge of mobile installations. If you follow the suggestions made by K0WJ and K0BG you'll have a much better chance of competing.
---
Mobile Shootout Rules
The Eyeball Mobile Shootout requires you to use your own transmitter as the RF source. Because of this, you will need to know how to operate your rig to produce a continuous unmodulated RF transmission and you will need to know how to adjust the power level of that transmission to a predetermined wattage level as indicated on a wattmeter that will be supplied by our Shootout Master.
Rules for the Shootout are:
The frequency for the Shootout is typically one of our SSB Early Net frequencies, band TBD by the Shootout Master and announced months in advance of the Eyeball. See the Net Schedule for net frequencies.
The power level is 30 watts and you will use your own transmitter as the RF source.
The official watt meter will be inserted in your feed line to ensure that everyone transmits the same power level.
Each Mobile participant will drive his/her vehicle to the designated position. You may orient your vehicle in any direction you choose and, time permitting, you may be tested in an alternate orientation after everyone else tests.
You may use any antenna that you choose as long as it adheres to the following:

Must be no taller than 13.5 feet measured from the ground to the highest point of the antenna.
If a Capacitance Hat is used, it may not be larger than 8 feet in diameter.
The entire mobile setup MUST be road-worthy. You must be able to drive in and out of the contest area with the antenna installed and must also be able to operate at highway speeds. You don't necessarily have to drive to the Shootout with the intended setup, but if it does not look road-worthy, you may be asked to demonstrate that it is capable of operating at highway speeds prior to being tested. If even ONE person protests, the Shootout attendees will be polled with the results of the poll being the final word... the final word being whether or not you will be allowed to officially test. (Reasonable accommodations will be made for unofficial testing.)

In an attempt to normalize the test results, our Shootout Master will use a mobile setup (not an official entry) as a reference signal. This will be the first mobile tested. After each 15-20 minute increment, he will send a test transmission. It has become obvious from past years, that over the course of a Shootout, conditions change; the ground dries out and the air changes humidity. These conditions all affect propagation. The test signal's changes will be recorded every 15-20 minutes and scores after each test signal increment will be adjusted up or down depending on the changes in the test signal. As an example, if the test signal varies by -1 dB, then the next mobiles tested will have +1 dB ADDED to their score, etc. The above is an attempt to assure greater accuracy of the results.
---
Links to Prior Mobile Shootout Results
18th Annual Mobile Shootout - 2021 - Louisville, MS
2020 - No shootout event held
2019 - No shootout event held
17th Annual Mobile Shootout - 2018 - Edmonnd, OK
16th Annual Mobile Shootout - 2017 - Upperco, MD
15th Annual Mobile Shootout - 2016 - Branson, MO
14th Annual Mobile Shootout - 2015 - Nashville, TN
13th Annual Mobile Shootout - 2014 - De Pere, WI
12th Annual Mobile Shootout - 2013 - Torrington, WY
11th Annual Mobile Shootout - 2012 - Ashland, NE
10th Annual Mobile Shootout - 2011 - Somers, CT
9th Annual Mobile Shootout - 2010 - Vidalia, LA
8th Annual Mobile Shootout - 2009 - Vista, CA
7th Annual Mobile Shootout - 2008 - Hanover, PA
6th Annual Mobile Shootout - 2007 - Guthrie, OK
5th Annual Mobile Shootout - 2006 - Le Sueur, MN
4th Annual Mobile Shootout - 2005 - Red Top Mountain, GA
3rd Annual Mobile Shootout - 2004 - Wilsonville, OR
2nd Annual Mobile Shootout - 2003 - Kansas City, MO
1st Annual Mobile Shootout - 2002 - Hamburg, NJ