EYEBALL 2010 RECAP
Eyeball 2010 was held in Natchez, MS and Vidalia, LA from Thursday June 10th thru Saturday June 12th, 2010. Natchez is located along the Mississippi River and is famous for its many antebellum mansions dating to the early 19th century and left essentially untouched by the American Civil War. Vidalia, LA is a thriving city right across the river from Natchez.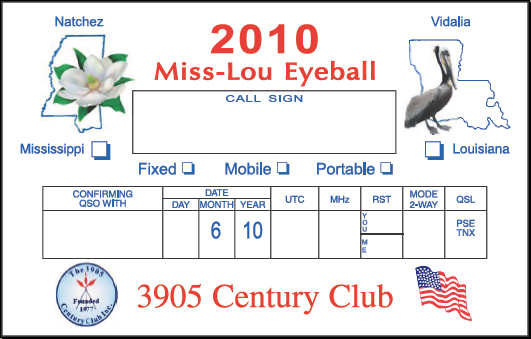 Amazing antebellum homes lining the mighty Mississippi River make Natchez one of the most unique cities in America. As the original state capital of Mississippi, Natchez holds an important place in Mississippi history. With its easy access to the river and fertile soil conducive to growing cotton, Natchez became one of the greatest economic focal points in the entire antebellum South.
Those attending were able to tour the historic antebellum homes and other architectural marvels, or enjoy a leisurely drive on the scenic Natchez Trace. Or experience the excitement of Natchez nightlife, from juke joints to fine dining.
The Hampton Inn & Suites, located near the banks of the Mississippi, was the Official Hotel of Eyeball 2010 and was the location of the Eyeball's Thursday and Friday events. Camper and tent camping facilities were provided by the Vidalia RV Park just across the river.
Friday's Shrimp/Crawfish Boil was truly all you can eat and then some. The shrimp and crawfish were accompanied by boiled potatos and an outstanding jambalaya.
We worked the nets from both sides of the river with many mobiles switching sides between rounds. The several dry spots scoped out by a few turned out to be not so dry, but those are the breaks.
A number of well deserved Presidential Awards were presented by our President, Rick Mobley (WB5FDP). These were:
Ambassador's Award - Given to two very deserving people that have gone out of their way to welcome newcomers to our nets and who have been very helpful during bad band conditions with relays. Joe Rebecca (K5FNS) and Lynn Easom (KB5GVR)
Certificate of Appreciation - Harold Chambless (W4NNO), Earl Smith (W1BML) and Kevin Burkhart (WM0F)
Leisure Mobile of the year - Jim Wade (VE9DH), Melanie Wade (VE9SX) and Shep Kilby (KC2PUF)
Professional Mobile of the year - Steve Panattoni (N6RSH)
K7MFG NCS of the Year - Bob Hall (KI7PM)
KD3FM Annual Service Award - Dean Davis (N7XG)
Outstanding NCS:
160m CW - Randy Bean (KJ4JC)
80m CW Early - Bob Hall (KI7PM)
80m CW Late - Hugh MacDonald (AC7XF)
40m CW - Bob Hall (KI7PM)
20m CW - Bob Hall (KI7PM)
80m RTTY - Bill Hoek (N7WH)
40m RTTY - Milton Withers (AD5XD)
20m RTTY - Bill Hoek (N7WH)
80m PSK - Bill Hoek (N7WH)
40m PSK - Bob Hall (KI7PM)
20m PSK - Bob Hall (KI7PM)
160m SSB Early - John Patrick (WK7K)
160m SSB Late - Doug Aldrich (W0WSP)
75m SSB Early - Rodney Curtis (WR4C)
75m SSB Late - Larry Gillespie, Jr (K7MI)
40m SSB Early - Frank Krize III (K5SVC)
40m SSB Late - Larry Gillespie, Jr (K7MI)
Mobile Shootout - Top Three:
1st - Lon Martin, K0WJ, with a Scorpion SA-680 w/ 3' Cap Hat
2nd - Fred Caswell Jr, WB1I, with a Scorpion SA-6160
3rd - Steve Knittel, KC4YBO, with a Tarheel 200A
See complete Mobile Shootout 2010 Results
The two main prizes were won by Jim Richardson, N5OHL (Ameritron AL-811H Amplifier), and Allen Brown, KZ3AB (Yaesu FT-857D Tranceiver).
The Eyeball 2010 Quilt and matching pillow (image below) made and donated by Judy Higgins (XYL of KB3PU) was auctioned off for $325 to benefit the Club and went home with Gene Marsh (W8NET). Thank you, Gene.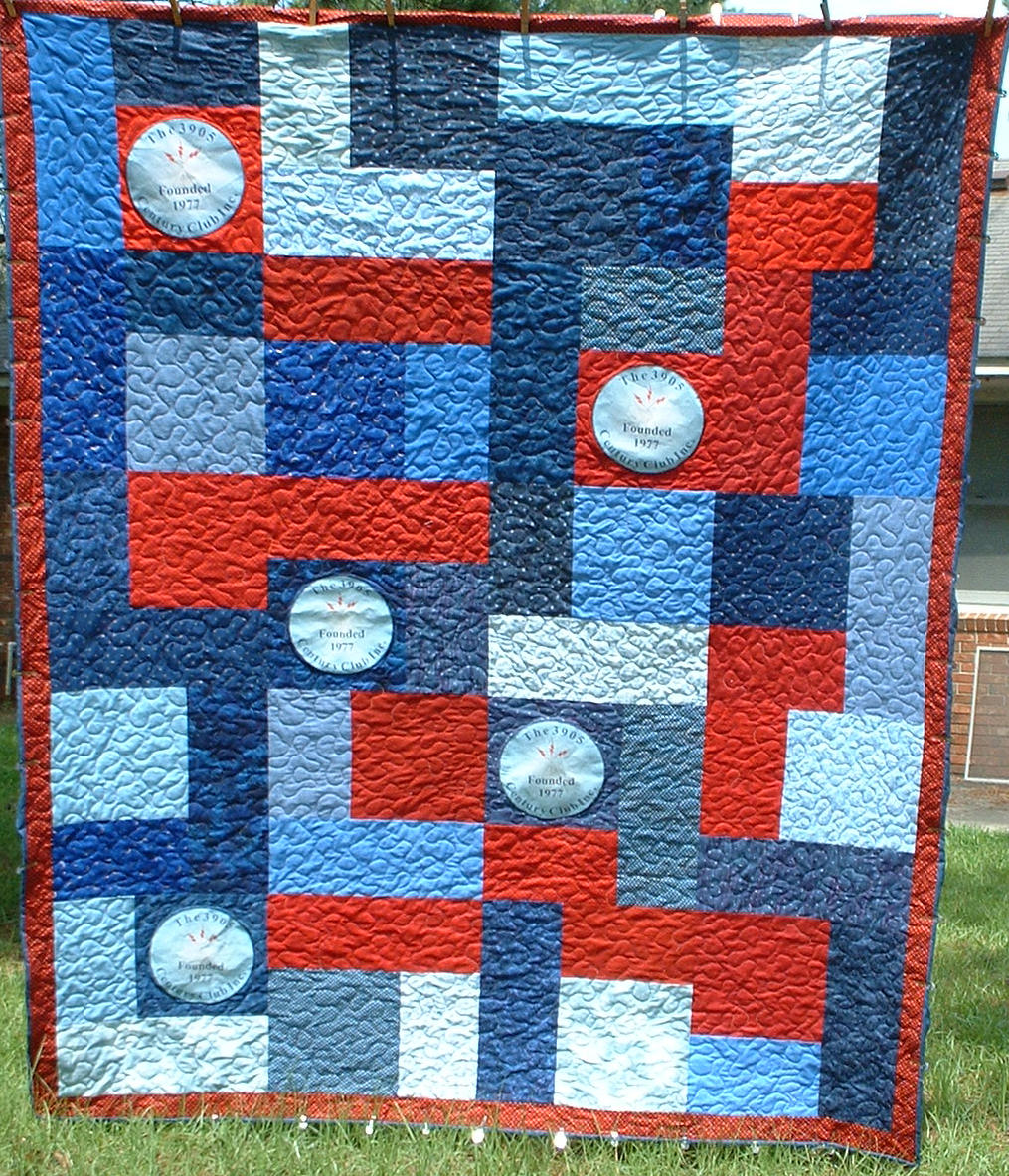 ---
Registrations for Eyeball 2010
#
Call Sign
Name
Home
Comments
1
K5SVC
Frank Krize III
MS, Church Hill
Eyeball Host
5th Area Director
Master #32
2
KD5JAQ
Joy Krize
MS, Church Hill
Eyeball Hostess
3
KB3PU
Jim Higgins
SC, Sumter
Webmaster
4
NN5G
Paul Kelly
OK, Oklahoma City
Alternate 5th Area Director
Master #27
5
&nbsp
Sara Kelly
OK, Oklahoma City
XYL of NN5G
6
W5WJN
Bill Nason
LA, Zachary
"Alligator Bill"
7
Patsy Nason
LA, Zachary
XYL of W5WJN
8
W0WSP
Doug Aldrich
TN, Portland
9
NJ9T
Pete Thornton
IL, Peoria Heights
Past President
Master #55
10
WN1F
David Feeney
ME, Scarborough
11
W6XLR
Richard Sauneuf
CA, Hayward
12
N6MSY
Pierrot Couch
CA, Hayward
13
K7EMJ
Marvin Berg
SC, Sumter
14
K3QX
Edward Herbrechtsmeier
MD, Rockville
Net Coordinator 40M SSB EN
15
Laura Stillwell
MD, Rockville
XYL of K3QX
16
W8EMT
Michael Stevens
OH, Mansfield
17
Lisa Stevens
OH, Mansfield
XYL of W8EMT
18
K0WJ
Lon Martin
KS, Shawnee Mission
19
KE4VYN
Lee George
AL, Vestaiva Hills
20
Tracey George
AL, Vestaiva Hills
XYL of KE4VYN
21
KE5SOK
Robert Nall
MS, Lorman
OM of KE5UAQ
22
KE5UAQ
Peggy Nall
MS, Lorman
XYL of KE5SOK
23
WN5M
Jack Merck
TX, Abilene
24
Katharine Merck
TX, Abilene
XYL of WN5M
25
AF6MV
Michael Vranisky, Jr
CA, Moreno Valley
26
AA0ZP
Frank Taylor
NE, Bellevue
Club Historian
Past President
Master #12
27
Marjo Taylor
NE, Bellevue
XYL of AA0ZP
28
W8NET
Gene Marsh
OH, Uniontown
8th Area Director
Master #47
29
Kevin Marsh
OH, Uniontown
Son of W8NET
30
WT0A
Glen Felt
NE, Friend
Alternate 10th Area Director
Master #40
31
N9DI
Dave Wade
IL, Dongola
9th Area Director
32
Connie Wade
IL, Dongola
XYL of N9DI
33
KL7IYD
Jim Cummins
AK, Juneau
34
Natalie Cummins
AK, Juneau
XYL of KL7IYD
35
K5DWI
Robert Hadley
MS, Bogue Chitto
Master #42
36
Linda Hadley
MS, Bogue Chitto
XYL of K5DWI
37
WB1I
Fred Caswell, Jr.
CT, Enfield
Alternate 1st Area Director
75M SSB Early Net Coordinator
Master #45
38
KE9OI
Dave Czerniak
IN, Wheatfield
9th Area Awards Manager
39
Georgia Czerniak
IN, Wheatfield
XYL of KE9OI
40
KC0MS
Karl Peterson
IA, Des Moines
"Magik Draggin"
Master #50
41
Mary Peterson
IA, Des Moines
XYL of KC0MS
42
N4UPX
Bobby Statzer
MS, Gulfport
Master #36
43
KF5BJN
Dalton Statzer
MS, Gulfport
Son of N4UPX
44
KD8EZS
Kevin Williams
WV, Morgantown
Alternate 8th Area Director
Master #44
45
WV4EVR
Jackie Williams
WV, Morgantown
Club Secretary
Master #46
46
KD8JCO
Zach Williams
WV, Morgantown
Master #48
47
KZ3AB
E Allen Brown
MD, Laurel
48
Deborah Brown
MD, Laurel
XYL of KZ3AB
49
Wendy Powers
MD, Laurel
Sister of KZ3AB
50
K5FNS
Joe Rebecca
MS, Scooba
51
KB5GVR
Lynn Easom
MS, Scooba
52
KI4WCQ
Johnny D. Allen
KY, Elizabethtown
Master #52
53
Cindy Allen
KY, Elizabethtown
XYL of KI4WCQ
54
Rachel Allen
KY, Elizabethtown
Daughter of KI4WCQ
55
WA5TRX
Lawrence Campi
LA, Kenner
56
K4WIT
Jon Wittlin
GA, Atlanta
57
N3YK
Bob Vietz
PA, Nanticoke
Alternate 3rd Area Director
Master #34
58
KB3RPA
Terry Vietz
PA, Nanticoke
XYL of N3YK
59
K4NOP
Michael E. Newland
SC, Graniteville
Assistant Awards Secretary
Master #41
60
KS9WI
Keith Summers
WI, De Pere
OM of N9QZF
61
N9QZF
Elaine Summers
WI, De Pere
XYL of KS9WI
62
AG5T
Marty Blaise
TX, Houston
63
Susan Blaise
TX, Houston
XYL of AG5T
64
W5IL
Richard Smale
NM, Los Alamos
40M SSB QSL Bureau Manager
Master #10
65
K0HNM
Larry Snyder
IL, Poplar Grove
Alternate 9th Area Director
Master #21
66
Lona Snyder
IL, Poplar Grove
XYL of K0HNM
67
N3WD
Bill Dobson III
MD, Reisterstown
2008 Eyeball Host
3rd Area Director
Master #43
68
WB5FDP
Rick Mobley
AR, Little Rock
3905CC President
Master #22
69
AD7DB
David Bartholomew
CA, Van Nuys
Brother of N7JY
70
N7JY
John Bartholomew
CA, Van Nuys
Brother of AD7DB
71
KE5IAK
Stephen Neesley
LA, Pineville
72
Glenda Neesley
LA, Pineville
XYL of KE5IAK
73
N0AXZ
William McFarland
MO, Columbia
74
Susan McFarland
MO, Columbia
XYL of N0AXZ
75
KC2PUF
Shep Kilby
NJ, Bridgeton
Treasurer
76
KG4ZOD
Donnie Hurst, Jr
NC, Burlington
&nbsp
77
Ginger Hurst
NC, Burlington
XYL of KG4ZOD
78
N5OHL
Jim Richardson
OK, Oklahoma City
Eyeball 2007 Host
5th Area Awards Manager
Presidential Advisory Committee
Master #17
79
N5OJP
Linda Richardson
OK, Oklahoma City
XYL of N5OHL
80
VE4HQ
Tom Blatch
MB, Winnipeg
Awards Committee
Alternate DX Area Director
81
Florence Spice
MB, Winnipeg
Guest of VE4HQ
82
N7XG
Dean Davis
OR, Salem
Eyeball 2004 Host
83
Jan Davis
OR, Salem
XYL of N7XG
84
KC5TYY
Doug Ballard
MS, Natchez
OM of KD5JAS
85
KD5JAS
Molly Ballard
MS, Natchez
XYL of KC5TYY
86
KD4POJ
Dwayne Lipscomb Sr
ND, Minot
Ass't Net Coord 160m SSB EN
10th Area Director
87
Dwayne Lipscomb Jr
ND, Minot
Son of KD4POJ
88
KE4RUG
Mac Beauchat
GA, Ellabell
89
N9KNJ
Ron Kaufman
IN, New Haven
DX QSL Bureau Manager
90
AL7QQ
Jeff Becvar Sr
IA, Waukee
Master #33
91
KC8RUG
Bill Steward
OH, Newtonville
OM of KA8AXY
92
KA8AXY
Barbara Steward
OH, Newtonville
XYL of KC8RUG
93
WB1DSJ
Bob Crossette
CA, San Diego
94
Theresa Crossette
CA, San Diego
XYL of WB1DSJ
95
AJ4IM
Jim Padgett
VA, Stafford
96
N5LSP
Jim Dear, Jr.
LA, Rayville
97
Carolyn Dear
LA, Rayville
XYL of N5LSP
98
K7MI
Larry Gillespie
OR, Bandon
Net Coordinator 75M SSB LN
Master #54
99
N0PUI
Jay Wieland
MN, Le Sueur
Eyeball 2006 Host
Master #25
Vice President
100
K5RFF
Ray Battalora
TX, Richardson
101
Megan Arnett
IL, Poplar Grove
Granddaughter of K0HNM
102
W9JAY
Jay Fadness
TX, Sealy
OM of N9OEL
103
WB0PYF
Ray Myers
MO, St Louis
104
Nathaniel Griffin Jr
MO, St Louis
Caregiver to WB0PYF
105
KC4YBO
Steve Knittel
GA, Roswell
106
Ann Knittel
GA, Roswell
XYL of KC4YBO
107
N5AVN
Everette Thompson Jr
LA, Vidalia
108
N9OEL
Virginia Fadness
TX, Sealy
XYL of W9JAY