EYEBALL 2017 RECAP
List of Registrants &nbsp - List of President's Awards &nbsp - List of Major Prize Winners &nbsp
Picture of Eyeball Attendees &nbsp - Picture of Masters Degree Holders &nbsp - Picture of YLs &nbsp
Picture of Presidential Seal &nbsp
Eyeball 2017 was hosted by Bill (N3WD) and Sharon (K3DUH) Dobson and was held at the Arcadia Volunteer Fire Company Carnival Grounds, 16020 Carnival Ave, Upperco, MD 21155 the weekend of June 15, 16, 17 (Father's Day Weekend). The Eyeball Fee was $65.00 for adults and $30 for children ages 7 - 12. Children under age 7 were free. Extra prize tickets were available to paid attendees for $4 each.
BONUS – ALL registered Eyeball attendees were admitted FREE to the June 18th Baltimore Amateur Radio Club's Father's Day Hamfest, which was held on the SAME grounds at the pavilion directly outside of the Eyeball hall and any eyeball attendee could receive a free tailgate spot if requested.
Airport – Baltimore/Washington International (BWI), which is a Southwest Airlines hub. BWI is 34 miles, roughly 44 minutes, from the Eyeball site.
The Mobile Shootout was held on a frequency of 7.2675 MHz with Roger Goodreau, W3ROG, as the Shootout Master.
For much more information, Visit N3WD's Website.
If you have any questions, please contact your hosts, Bill (N3WD) and Sharon (K3DUH) Dobson
---
EYEBALL ATTENDEES
---
MASTERS DEGREE AWARD HOLDERS
---
YLs
---
DWIGHT'S NEW PRESIDENTIAL SEAL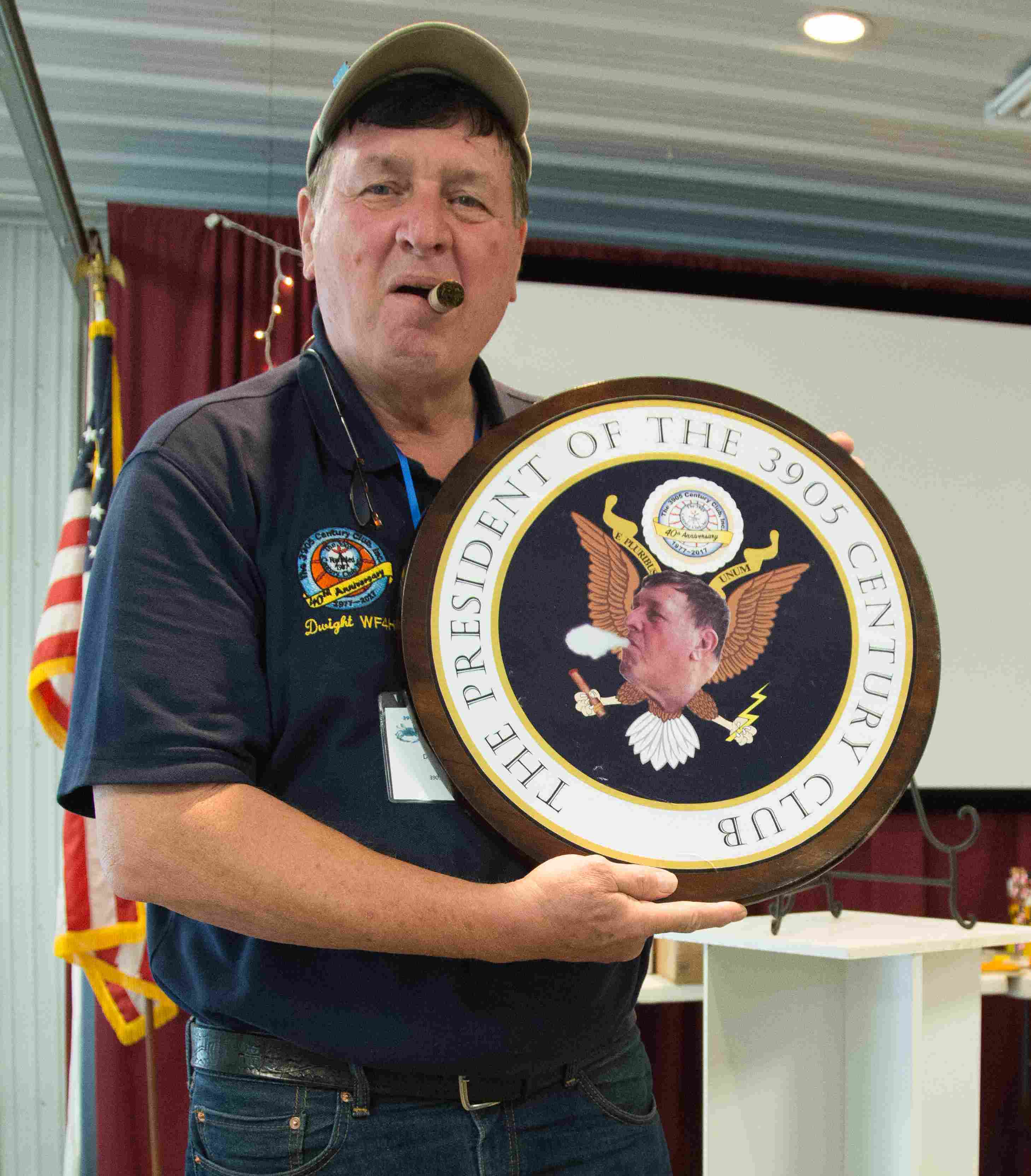 Return to Top
MAJOR PRIZE WINNERS
PRIZE
RECIPIENT
Ameritron AL-811H Amplifier
Roger Callewaert, W9ROG
Little Tarheel II
Tom Edmonds, K3CD
PRESIDENTIAL AWARDS
AWARD FOR
RECIPIENT
KD3FM Annual Service Award
Joe St. Columbia, N5MIG
K7MFG Memorial NCS of the Year Award
Clark Ashworth, KB0EL
W1BML Ambassador Award
Frank Taylor, AA0ZP
Leisure Mobile of the Year Award
Ginger Wonderling, AB6YL
Professional Mobile of the Year Award
Don Hesseling, KD0WGB
Domestic QSL Bureau Co-Manager
Rob Gibbs, K8GIB
Domestic QSL Bureau Co-Manager
Rob Lunsford, KB8UEY
DX QSL Bureau Manager
Rick Mobley, WB5FDP
Handiham QSL Bureau Manager
Bob Braddock, KC2IYE
Centurion Editor & Publisher
John Spillman, KT4CB
Century Club Cares Chairman
Ray Myers, WB0PYF
Net Coordinator 20m CW & 40m CW Nets
David Feeney, WN1F
Net Coordinator 80m CW Net
Hugh MacDonald, AC7XF
Net Coordinator 160m CW Net
Dan Michnay, K9EA
Net Coordinator 40 & 80m PSK & RTTY Nets
Milt Withers, AD5XD
Net Coordinator 40m SSB Late Net
Joe St Columbia Jr, N5MIG
Net Coordinator 75m SSB Early Net
Jim Foster Sr, WA9DIY
Net Coordinator 75m SSB Late Net
Donnie Hurst, KG4ZOD
Net Coordinator 160m SSB Early Net
Roger Callewaert Jr, W9ROG
Net Coordinator 160m SSB Late & Late Late Nets
Mike Hartman, WG0I
Idea Guy, Modern 20m SSB Net
Lee Kanon, KG7BAN
Thanks For a Great Eyeball
Bill Dobson, N3WD
CERTIFICATES OF APPRECIATION
FOR NETS RUN FY 2016
NUMBER OF NETS RUN
RECIPIENT
209
Roger Callewaert, W9ROG
179.5
David Feeney, WN1F
121
Clark Ashworth, KB0EL
118
Bill Wallace, K1YAG
111.5
Dave Tipton, W5DMT
83
Rick Mobley, WB5FDP
80
Gary Brewer, K5GEB
70
Craig McLaughlin, VE3CMB
67
Jim Foster Sr, WA9DIY
51
Frank Krize III, K5SVC
51
Joe St Columbia Jr, N5MIG
50
Ed Garrison, K1EDG
50
Ralph Mitchell, KG8WL
50
Ron Seese, WB7ASC
48
George Huett, W6LJK
47.5
Gary Slagle, K9GWS
46.5
Bob Wilson, KC1AU
45
Milt Withers, AD5XD
43
Keith Tilley, K2UNI
43
Jim Hurst Sr, WB7PTC
35.5
Dwight Greenberg, WF4H
34
Maynard Anderson Jr, AA9ZF
34
Jerry Kahn, AC0RL
31
Sue Pfeiffer, KB9BSK
30
Rick Conners, WA7ND
27.5
Dan Michnay, K9EA