EYEBALL 2012 RECAP
Eyeball 2012, hosted by Glen Felt, WT0A, was held at the Eugene T. Mahoney State Park in Ashland, NE from Thursday July 26 to Sunday July 29, 2012.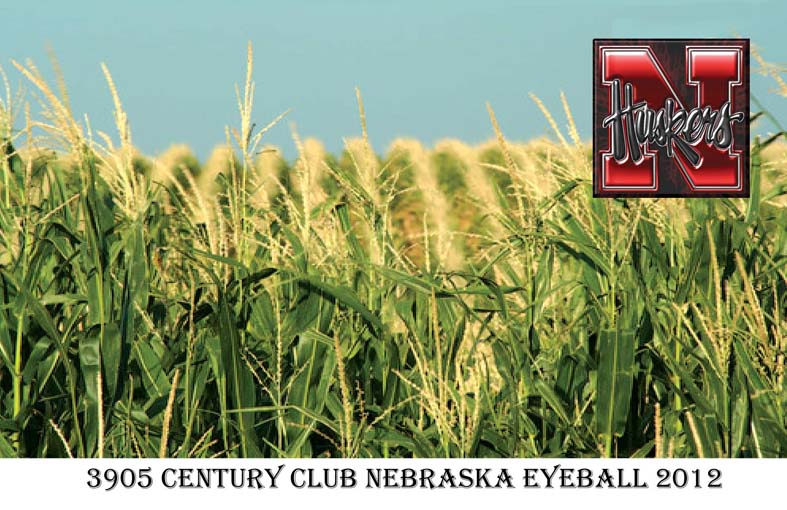 Eyeball 2012 QSL Card - Front
Eugene T. Mahoney State Park is located in Cass County between Omaha & Lincoln, NE on Interstate I-80, exit 426, nestled on 690 acres along the picturesque Platte River. The park offers year-round accommodations and recreational use. This ultra modern park offers a spectacular array of lodging, group meeting facilities and activities, including a Family Aquatic Center with a wave pool and two 200-plus foot curling water slides. Other activities include miniature golf, driving range, tennis and basketball courts, softball fields, horseback trail rides, crafts, fishing, picnicking, hiking, 70-foot observation tower, nature conservatory, the Denman and Mary Mallory Kountze Theater, hiking and biking trail and beautiful waterway, and at Owen Marina visitors may rent a paddleboat and check out recreational equipment. The dominant feature of the park, the Peter Kiewit Lodge, offers guest rooms, a restaurant where guests can dine with the scenic Platte River as a backdrop, a gift shop and meeting rooms. Wild turkeys and the occasional raccoon roam the lawn on the river side of the lodge.
Nearby attractions include Platte River State Park, which also offers rustic lodging, the Strategic Air and Space Museum, the Quarry Oaks Golf Club and Iron Horse Golf Club.
Weather for the Eyeball was good - cool at night with daytime highs in the high 80s to mid 90s.
The center of Eyeball 2012 activity was at the SAPP Riverside Lodge located next to the observation tower. It was comfortable, well air conditioned, a great place to put up antennas, and the back deck was a pleasant place to sit in the cool evenings.
President's Awards
A number of very well deserved President's Awards were announced by our President, Russ Sawyer, W2UJ. These were:
Outstanding NCS
20m CW - David Feeny, WN1F
20m PSK - David Feeny, WN1F
20m RTTY - David Feeny, WN1F
40m CW - Rick Mobley, WB5FDP
40m PSK - David Feeny, WN1F
40m RTTY - Milt Withers, AD5XD
40m SSB Early - Bob Wilson, KC1AU
40m SSB Late - Dave Meye, KL7QW
80m CW - David Feeney, WN1F
80m PSK - David Feeny, WN1F
80m RTTY - Milt Withers, AD5XD
75m SSB Early - Ron Belanger, K8PGM
75m SSB Late - Dave Meye, KL7QW
160m SSB Early - Steve Bartz, AD5UQ
Certificates of Appreciation - Net Coordinators
David Feeney, WN1F - 20m CW, 20m PSK, 20m RTTY, 40m CW
Hugh McDonald, AC7XF - 80m CW
Bill Hoek, N7WH - 40m PSK, 40m RTTY, 80m PSK, 80m RTTY
Ed Herbrechtsmeier, K3QX - 40m SSB Early
George Huett, W6LJK - 40m SSB Late
Russ Sawyer, W2UJ - 75m SSB Early
Donnie Hurst, KG4ZOD - 75m SSB Late
John Patrick, WK7K - 160m SSB Early
Certificates of Appreciation
Dean Davis, N7XG - 40m SSB Bureau Manager, Great Logging Program
Gene Schneider, WM9H - All Other Nets Bureau Manager
Ron Kaufman, N9KNJ - DX Bureau Manager
Ronnie Stanley, NC4RS - Awards Secretary
Jim Higgins KB3PU - Webmaster, Club Recorder, Club Information Officer, Awards Committee Chair, Reflector Mgr
Ricky Asper, AC7RA - Editor of the Centurion Newsletter
Professional Drivers of the Year
Steve Panattoni, N6RSH
Jesse Cox, KF4PAF
Casual Drivers of the Year
Glen Felt, WT0A
Karl Peterson, KC0MS
Ambassador's Award
K7MGFG NCS of the Year
KD3FM Annual Service Award
Rick Mobley, WB5FDP
Shep Kilby, KC2PUF
Paul Kelly, NN5G
Special Certificate of Appreciation - Eyeball 2012 Host
Special thanks to Pete Thornton, NJ9T, for sponsoring the two plaques for the Ambassador's Award and the K7MFG NCS of the Year Award
---
Lon Martin, K0WJ, hosted the Annual Mobile Shootout, and a full schedule of other events including local QRP nets, regular nets, bingo, the Air and Space Museum, and all the activities the park had to offer kept everyone busy.
The Eyeball raffle had many nice prizes, including:
Ameritron AL-811H 800 Watt Amplifier - won by Marvin berg, K7EMJ
MFJ 259B Antenna analyzer with Accessory Pack
Autek WM-1 Computing SWR/Wattmeter
900 - 1000 watt generator
Four Soldering Stations
Weller Soldering Gun
K9AY Antenna Controller
Pennant Balun & Terminator
$30 toward 40m Bureau Envelopes
$30 toward 75m Bureau Envelopes
Many other prizes
Auction
An auction was held for a Quilt, 102" x 102" (oversize king) in a Canyon Sunset Star design (design by Debbie Maddy), and was made and donated by Judy Higgins (XYL of KB3PU). Dean (N7XG) and Jan Davis were the high bidders at $700 after rapid and spirited bidding lead by a professional auctioneer.
Also included in the auction were:
AL-811H 800 Watt Amplifier - refurbished by WT0A
Ten Tec Tuner (Full Legal Limit) - went to Dwight Greenberg, KJ4SGI
K8RA P1 Iambic Paddle Keyer - went to Ray Myers, WB0PYF.
Palomar Noise Bridge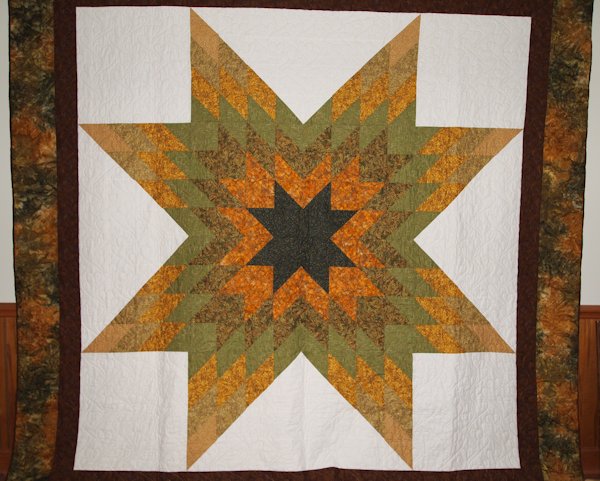 Click quilt image above to see a much larger and far more detailed view.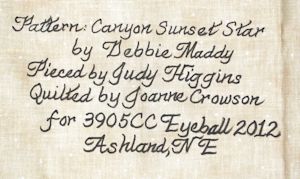 Label on back of quilt - actual size about 4.5" x 7.5".
---
EYEBALL 2012 REGISTRANTS
Call Sign
Name
Home
Staying At
Comments
WT0A
Glen Felt
NE, Friend
Lakeside CG
Vice President
Eyeball 2012 Host
Bonnie Felt
NE, Friend
Lakeside CG
XYL of WT0A
KB3PU
Jim Higgins
SC, Sumter
Park
Webmaster
Club Recorder
Information Officer
Alternate 4th Area Director
Awards Committee Chairman
K3BOB
Robert Hibbert
PA, State College
Park
OM of KT3INA
KT3INA
Maria Hibbert
PA, State College
Park
XYL of K3BOB
W900
Carl Durnavich
IL, Harvey
Park
Club Secretary
W5WJN
Bill Nason
LA, Denham Springs
Super 8
"Da Gator"
Patsy Nason
LA, Denham Springs
Super 8
XYL of Da Gator
KL7QW
David Meye
MO, Lake Ozark
OM of KC7MCQ
KC7MCQ
Janet Meye
MO, Lake Ozark
XYL of KL7QW
KC0CL
Calvin Lewandowski
KS, Olathe
Other
OM of KD0EZF
KD0EZF
Anne Lewandowski
KS, Olathe
Other
XYL of KC0CL
AE5XL
Charles Stout
TX, Copperas Cove
Park
OM of KF5KLP
KF5KLP
Chris Stout
TX, Copperas Cove
Park
XYL of AE5XL
NN5G
Paul Kelly
OK, Oklahoma City
Park
KC9NCS
Larry Beske
IL, Homer Glen
Other
9th Area Director
AC0TP
Mick Toothaker
KS, Wichita
Little Creek CG
Dawn Toothaker
KS, Wichita
Little Creek CG
XYL of AC0TP
Mia Toothaker
KS, Wichita
Little Creek CG
Daughter (age 4) of AC0TP
KJ1I
Kevin Johnson
NH, Milford
Holiday Inn
WK7K
John Patrick
WY, Torrington
Park
160m SSB Early Net Coordinator
W6XLR
Richard Sauneuf
CA, Hayward
Super 8
NJ9T
Pete Thornton
IL, Peoria Heights
Super 8
Master #55
Past President
N0PUI
Jay Wieland
MN, Le Sueur
Super 8
Master #25
K0WJ
Lon Martin
KS, Shawnee Mission
Super 8
Eyeball Shootout Coordinator
KD4POJ
Dwayne E. Lipscomb Sr
ND, Minot
Other
"Griz"
Master #59
Dwayne E. Lipscomb Jr
ND, Minot
Other
Son of KD4POJ
NX7F
David Reed
NV, Las Vegas
Super 8
KE9OI
David Czerniak
IN, Wheatfield
Lakeside CG
9th Area Awards Manager
Georgia Czerniak
IN, Wheatfield
Lakeside CG
XYL of KE9OI
KV4GO
Dan Bailey
TN, Unicoi
Park
NA0L
Richard Lorenzen
CO, Boulder
Park
KC0MS
Karl Peterson
IA, Des Moines
Super 8
Master #50
Mary Peterson
IA, Des Moines
Super 8
XYL of KC0MS
AB0VK
Keith Mehl
IA, Des Moines
Super 8
Guest of KC0MS
AC7RA
Ricky Asper
UT, Salt Lake City
Park
Centurion Editor
Awards Committee Member
KM5MS
Dale Casterline Sr
MS, Columbus
Super 8
KL7IYD
Jim Cummins
AK, Juneau
Super 8
Natalie Cummins
AK, Juneau
Super 8
XYL of KL7IYD
N4UPX
Robert D Statzer
MS, Gulfport
K9ZK
Phil Mc Millan
IL, Geneseo
Super 8
K9PXC
Gene Carlson
IL, Andover
Super 8
Veteran WWII
N1NU
James Foster
NE, Merna
Park
Master #26
WB0PYF
Ray Myers
MO, St. Louis
Park
10th Area Director
Debbie Dawkins
MO, St. Louis
Park
Guest of WB0PYF
N5OHL
Jim Richardson
OK, Oklahoma City
Park
Master #17
OM of N5OJP
5th Area Awards Manager
N5OJP
Linda Richardson
OK, Oklahoma City
Park
XYL of N5OHL
W0WSP
Doug Aldrich
TN, Portland
Super 8
K7EMJ
Marvin C. Berg
SC, Sumter
Park
Traveling with KB3PU
N7XG
Dean Davis
OR, Salem
Park
40m QSL Bureau Manager
Jan Davis
OR, Salem
Park
XYL of N7XG
W0PTL
Eric Johnson
MN, Oak Grove
Holiday Inn
AA0ZP
Frank J. Taylor
NE, Belleview
Super 8
Marjo A. Taylor
NE, Belleview
Super 8
XYL of AA0ZP
KB0BK
Bill Boutwell
MN, Cohasset
Super 8
WM0F
Kevin Burkhart
CO, Loveland
Holiday Inn
Master #18
WJ7Z
Jim Perkins
ID, Boise
Park
OM of KD7GRR
KD7GRR
Boni Perkins
ID, Boise
Park
XYL of WJ7Z
N4ACS
Jim Wood
MO, Edgar Springs
Lakeside CG
OM of KD0HER
KD0HER
Kathy Wood
MO, Edgar Springs
Lakeside CG
XYL of N4ACS
W2UJ
Russ Sawyer
NY, Selkirk
Other
Club President
Master #61
NCS Training Officer
75m Early Net Coordinator
K7BSU
Roger Sharp
ID, Boise
Other
Karen Sharp
ID, Boise
Other
XYL of K7BSU
W0YV
Tim O'Hara
IA, Robins
Little Creek CG
Rosemary O'Hara
IA, Robins
Little Creek CG
XYL of W0YV
N0GSA
Brenna O'Hara
IA, Robins
Little Creek CG
Daughter of W0YV
W0USS
Daniel O'Hara
IA, Robins
Little Creek CG
Son of W0YV
Erin O'Hara
IA, Robins
Little Creek CG
Daughter of W0YV
Cavan O'Hara
IA, Robins
Little Creek CG
Son of W0YV
KS9WI
Keith Summers
WI, De Pere
Super 8
OM of N9QZF
N9QZF
Elaine Summers
WI, De Pere
Super 8
XYL of KS9WI
KJ4SGI
Dwight Greenberg
FL, Cocoa
Park
Beth Greenberg
FL, Cocoa
Park
XYL of KJ4SGI
AA9ZB
John Meyer
IN, Middletown
Other
K3QX
Ed Herbrechtsmeier
MD, Rockville
Holiday Inn
40m SSB Early Net Coordinator
Alternate 3rd Area Director
VE3CMB
Craig McLoughlin
ON, Ottawa
Park
Master #57
DX Area Director
DX Area Awards Manager
WE0D
Greg Crossman
FL, Summerfield
Little Creek CG
WC0PD
Dean Monroe
KS, Emporia
Super 8
Alternate 10th Area Director
10th Area Awards Manager
KD0IIX
Dave Stewart
MO, Olean
Other